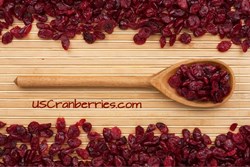 Wareham, Massachusetts (PRWEB) December 06, 2013
In collaboration with the USDA Agricultural Marketing Service, the U.S. Cranberry Marketing Committee (CMC) and industry representatives announced today good news from USDA Secretary Thomas J. Vilsack. Effective July 2014, schools will have the option to purchase dried cranberries from the Foods Available List (FAL) as part of the USDA foodservice procurement program. Previously, only cranberry sauce had been available.
We are committed to being a part of the solution to healthier school meals and are very appreciative of USDAs swift response along with remarkable collaboration from cranberry producers, trade associations and elected officials from across the country, said Scott J. Soares, Executive Director, CMC. To the overwhelming majority of foodservice professionals who told us they wanted greater cranberry product options and also expressed their support for expanding the USDA Foods Available List, I extend thanks from the U.S. cranberry industry for getting your Cran On!
FAL is the USDA resource list of commodity food products. The list has been modified extensively in recent years with the goal to improve the nutritional options available to the nations school children. As a result of new guidelines, dried fruits, including cranberries, are creditable. Dried fruit credit at twice its volume, providing the equivalent of